Chicken Dance: School Edition
A Cross-Curricular, Virtual Course for Grades Pre-K to 3


Created to promote learning in the performing arts, language arts, and character education,
Chicken Dance: School Edition
is an exciting, multiple-lesson class for grades Pre-K to 3 that is built around our full-length, professional theatre performance of
Chicken Dance the Musical
and the themes of friendship, perseverance, and anti-bullying portrayed in the show.
Once purchased, the program is fully accessible with no time constraint on its use
.


Chicken Dance: School Edition
features:
1.  A full-length performance of
Chicken Dance the Musical
on video
2.  Grade-specific Study Buddy educational guides that provide a full complement of literacy-building and visual arts activities for your students
3.  Fun song and dance instructional videos
4.  Interviews with the author of the Chicken Dance book and the musical's set designer
5.  Our own Student Gallery page where your students can post their artwork and videos
About Chicken Dance the Musical
Chicken Dance the Musical
is ArtsPower's popular, 55-minute
musical based on the multi award-winning book by Tammi Sauer with illustrations by the 2015 Caldecott Award winning artist Dan Santat.
Chicken Dance
portrays the story of Marge and Lola, two friendly and determined chickens, who set out to win the Barnyard Talent Show and its first prize: two tickets to see the famous rooster Elvis Poultry in concert.
The only problem is Marge and Lola can't figure out their act for the talent show.
Mac the Duck, the barnyard bully, is also entered in the show and continually reminds his chicken friends that they have no chance of winning the contest. Elsie, the barnyard's sweetest and very shy cow, decides that she, too, will compete in the show.
Chicken Dance
celebrates the power of perseverance to overcome insurmountable odds – and the local bully – in Marge and Lola's long-shot attempt to win the talent show.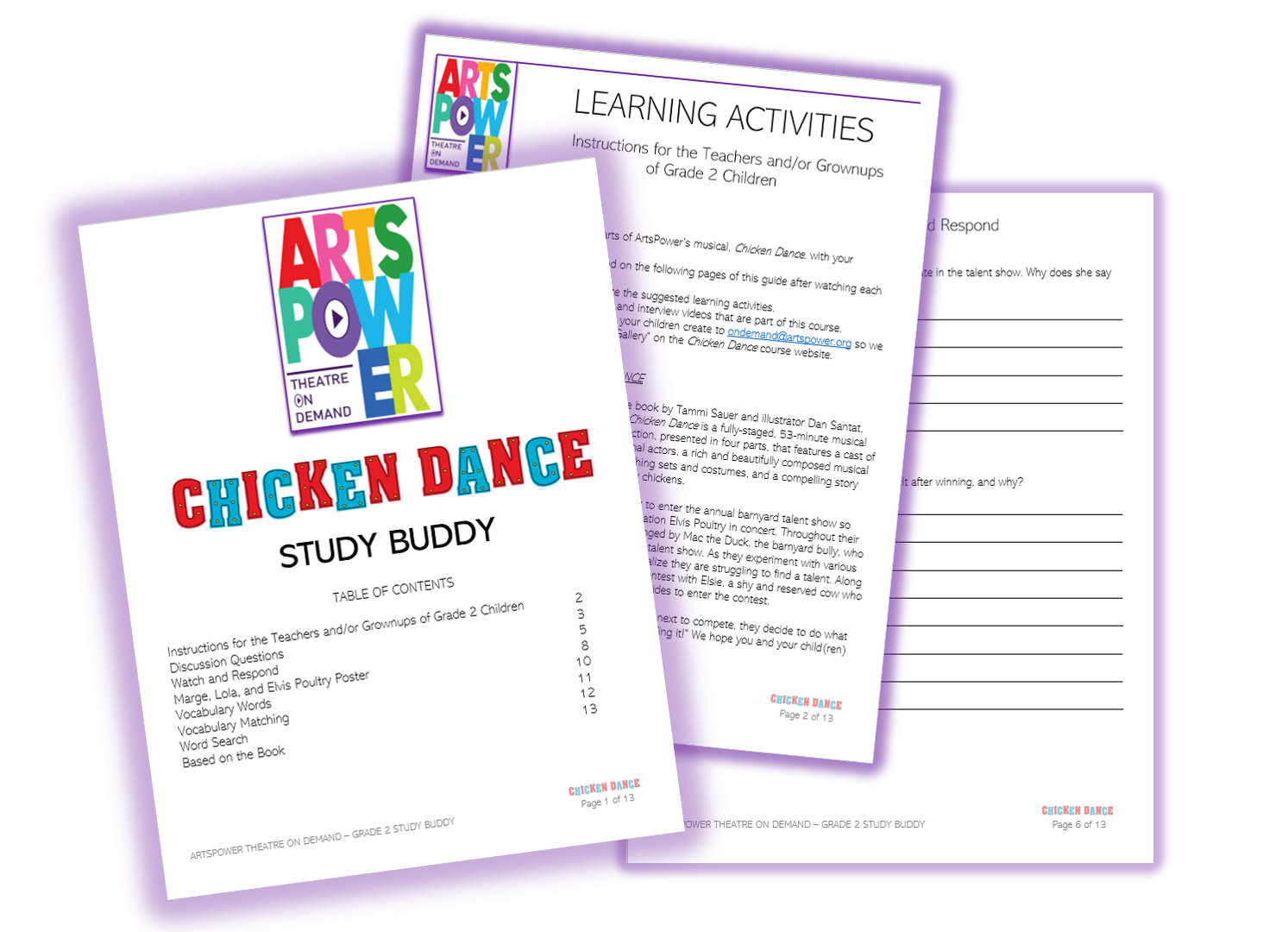 About Our
Study Buddys
Our easy to use, grade-specific, educational guides provide fun, National Core Curriculum-based, literacy-building activities, questions about the show to discuss with teachers, parents, and classmates, opportunities to draw and write, and a Student Gallery page where students can post their own artwork and videos. 
SPECIAL NOTE TO CLASSROOM EDUCATORS
: When you purchase
Chicken Dance: School Edition
for your classroom, we will forward an email to you with a coupon code for your students to use at checkout. Your students will then create their own login accounts with this code. This will allow them free access to
Chicken Dance: School Edition
.


SPECIAL NOTE TO EDUCATORS IN NON-TRADITIONAL ENVIRONMENTS: Please email us at [email protected] describing your situation and the number of students who will be served by this program, and we will provide a special price for Chicken Dance: School Edition
.